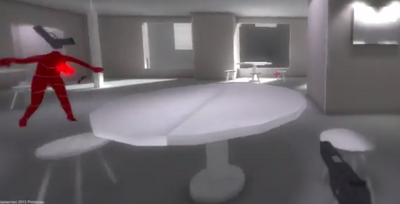 The pistol is a weapon carried by all standard enemies. It fires bullets, which kill the player instantly on contact. Killing an enemy allows the player to pick up the dropped weapon and use it.
The pistol is fairly innacurate, both in the hands of enemies and the player. It will often have a slight spread to its flight path, making long-distance shots often unsuccessful. Even relatively close-range shots can miss with it, forcing the player to spend another bullet. Any random pistol can be fired 3-5 times by the player before running out of ammo. The pistol is capable of going full automatic.
When there is no more ammo left in the pistol, one of the following messages will flash on the screen:
ALL GONE
NO BULLETS
THIS THING IS EMPTY
I'M EMPTY
This only happens the first time you click and turns the pistol into a throwable.